This website is dedicated to all who proudly served as a Beach Jumper...
---
~ ASSOCIATION NOTICES ~

---
WELCOME ABOARD NEW MEMBERS:
RD2 STEVEN BRINCEFIELD, BJU1
ETN3 JOSEPH BRUNO, BJU2
ETN3 W.DALE HARRIS, BJU1
GMG2 NATHAN GILBERTSON, FCG2
____________________________________
BUDDY CHECK: please check the above member roster for inactive members. If you still communicate with an inactive member, please have him/her update their information with our Admin Office as their contact information is probably out of date. Thank you.
---
To be listed as an active member

Login codes will be sent
via email once dues is paid

Pay your 2020 dues
online now

dues is requested by Jan. 31st each year.

* SPECIAL *

IF YOUR MEMBERSHIP DUES IS IN ARREARS FOR 2019 AND YOU PAY YOUR 2020 DUES BY DEC.31st 2019,

PAYMENT OF YOUR 2019 DUES WILL

BE WAIVED.

ACT NOW, PAY ONLINE
REMINDER: LOGIN CODES WILL BE DISABLED ON JAN.31st FOR THOSE MEMBERS WHO HAVE NOT YET PAID THEIR 2020 DUES.
2020 Membership ID card
Logo bottom right -
courtesy of
RM2 Tom Chason, BJU1
---
Active members, associate members, life members, friends:

Our 2019 reunion was held on Ocracoke Island, NC, the site where Beach Jumpers trained during WWII. We held a re-dedication ceremony and wreath placement at the Memorial on Loop Shack Hill. Our memorial marker is in need of some refurbishing, ie faded logo colors and lettering need attention and the base could use some type of additional bordering and gravel. The memorial marker has experienced this weather beaten wear as it is within a couple hundred yards off the ocean and experiences hurricane force winds etc. annually.

December 5, 2019, Memorial refurbish account

currently stands at $475.00.

THANK YOU FOR YOUR DONATIONS

Please help with our Memorial upkeep
HURRICANE DORIAN, OCRACOKE UPDATE:


These photos were taken from a news article published by the NY Times. I still have not been able to get word on the condition of the Beach Jumper Memorial on Hwy 12 at Loop Shack Hill. I'm not pressing for information as the residents have much more to deal with at this time. The Times article was published yesterday 9/28/19. One excerpt reads:

" The island averages five feet above sea level, but Dorian inundated us with an unprecedented seven-foot storm surge that, according to the head of North Carolina Emergency Management, flooded over hundreds of our homes with anywhere from a few inches to four feet. Neighbors had to be rescued from their attics by boat, folks axed down their doors and swam through the surge to higher ground. At the Village Craftsmen, a native owned gift store in operation for 40 years, lines are marked with names of previous hurricanes. Hurricane Matthew from 2016 is there, one of the worst anyone can remember. The line for Dorial is 27 inches higher than Matthew."

The last photo is Highway 12 looking north.
---
Death notices are posted for 30 days from the date the association is notified.
The BJA Memorial page has some newly updated personal page
links of some of our members who have passed away.
Click here to view.
If you have information on a deceased member who does not have a personal memorial page, send it to admin@beachjumpers.com and one will be created.
---
APPLICATION/DUES FYI:
1. The Admin Office has rec'd many applications during the past year, however many of the applicants have not sent in the required $25.00 initial process fee (which is applied to the first year or portion of first year dues) and therefore the application is sitting dormant. If you have applied and not heard anything back, this may be the reason. Applications will not be processed without the application fee, this includes new members age 80 or older.
2. Regarding dues, a member is listed as not in good standing after a dues lapse of one year. Members not in good standing must pay two years dues to be reinstated to good standing status. Some members have sent in a new application thinking that this step can be by-passed. If you have a member number on file (since our inception) you cannot become a new member, you just need to pay up the two years dues. This rule was voted in by the membership in October 2009.

3.Regular members 80 years of age or older, are dues exempt members at their discretion. To those members who are 80+ and continue to pay annually, we appreciate your contribution.
First time applicants 80 years or older, must pay the initial $25.00 application fee. ( email your DOB for this dues exemption to admin@beachjumpers.com )
---
---

Beach Jumpers
were U.S. Navy tactical cover and deception units which were organized under Admiral H.K. Hewitt, then Commander of Amphibious Forces and all U.S. Naval Forces in Northwest African waters and the Western Mediterranean.
The concept for Beach Jumpers came about as a result of then Lieutenant Douglas Fairbanks Jr., the Hollywood actor turned naval officer during World War II and having been detached from "Blue Water" duty on the high seas and assigned to duty with British Admiral Lord Louis Mountbatten and the Combined Operations Commandos in England.

Tribute, click here

The Operation Dragoon drama of
Douglas Fairbanks Jr.
---
The Blast, 1st Qtr. 2001
Beach Jumpers Issue
---
---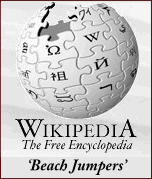 ---