<![if !vml]><![endif]>

U.S. Navy Beach Jumpers Association
450-106 State Road 13N, #407

St. Johns, FL 32259-3860

(727) 4-USNBJA
Commemorative personalized Beach Jumper plaque (2017)
The response to the posting on Facebook about having a personalized commemorative plaque made for our members has been overwhelming. I would like to thank VP John Spielmann for reposting, on Facebook, the picture of the commemorative plaque issued to NIOC-SD in 2013, celebrating the 70th anniversary of our birth. NIOC-LC also received the same plaque.
On the last page you will see the finished product.

Plaques will only be issued in the name of a current (or deceased Beach Jumper for associate member purchases) .

Prices:
1) All members, currently dues paying and exempt members- $65.00 plus $15.00 S/H via UPS Ground ( the association will absorb any additional s/h charges based on the destination shipped within the 48 contiguous states plus Alaska and Hawaii, for current dues paying members only ). Members living out of the country must first contact Admin at 727-487-6252 prior to ordering with an exact destination address and shipping preference.


2) All non-dues paying members- $89.95 plus $18.00 S/H via UPS Ground to anywhere in the 48 contiguous states or $45.00 S/H via UPS to Alaska or Hawaii.


3) Associate members, in good standing - $80.00 plus S/H specified in price group 2.

Ordering process:


1) Send a confirming email to admin@beachjumpers.com ,
a) listing your member number from your ID card,
b) include your rank, and name (as you want it engraved)
c) BJU# assigned or FCG#, FDG#, FIWC or NIOC
d) years in the unit (ie 1965-69 etc.)
e) if you prefer an alternate shipping method other than UPS
please indicate so in your confirming email.


2) You will be sent a reply email and PO number from Admin
with a link to the PayPal payment page. The links are different for
current dues, dues in arrears and associate member purchases.
These links will not be available via the website or Facebook.
You will need your confirming PO number to complete the purchase.
3) Associate members must include the name of the Beach Jumper who
you were related to at the time of your original application. Plaques
will not be issued in non-Beach Jumper names. Include the information
as requested in 1) above.
Orders will be placed with the engraver as payment clears. Orders
placed via snail mail will be delayed until check clears. PLEASE
allow between 3-6 weeks for delivery.
All plaques will be mahogany, 9"x12", with engraving in gold lettering
on black background.
( FINISHED PLAQUE ON NEXT PAGE )
(photo glare could not be helped when taking picture)
<![if !vml]>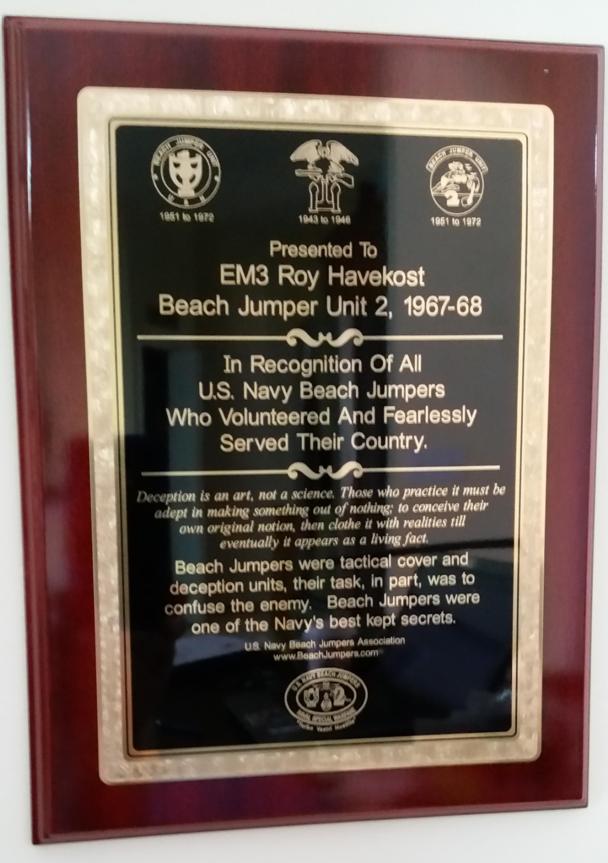 <![endif]>